Hey Bronzeville!
Project Updates
The preferred transportation alternative is currently in the design process. HDR, Inc. was selected as the consultant to aid the City of Columbus in designing the on-road side path for the Mt. Vernon Avenue Corridor. 
On July 10, 2023 the City submitted a federal funding request totaling $6.3 million through a Safe Streets for All Grant to fund project construction. Access the grant application materials here:
Preferred Transportation Alternative
A preferred alternative was identified for the Mt. Vernon Avenue corridor following community outreach and engagement of the three transportation alternatives. The on-road side path has been selected to move forward into the design and funding process. The on-road side path meets the project goals, including reducing crashes, improving safety for all roadway users, increasing mobility options, and enhancing aesthetics.
The on-road side path alternative will contribute to traffic calming by narrowing vehicular lanes, reducing crossing distances for pedestrians, providing dedicated space for pedestrians, bicyclists, and other non-motorized transportation users. This alternative also provides opportunities to incorporate beautification elements.
Click here to view the Preferred Alternative Slides, presented to the Advisory Coalition on June 7, 2022.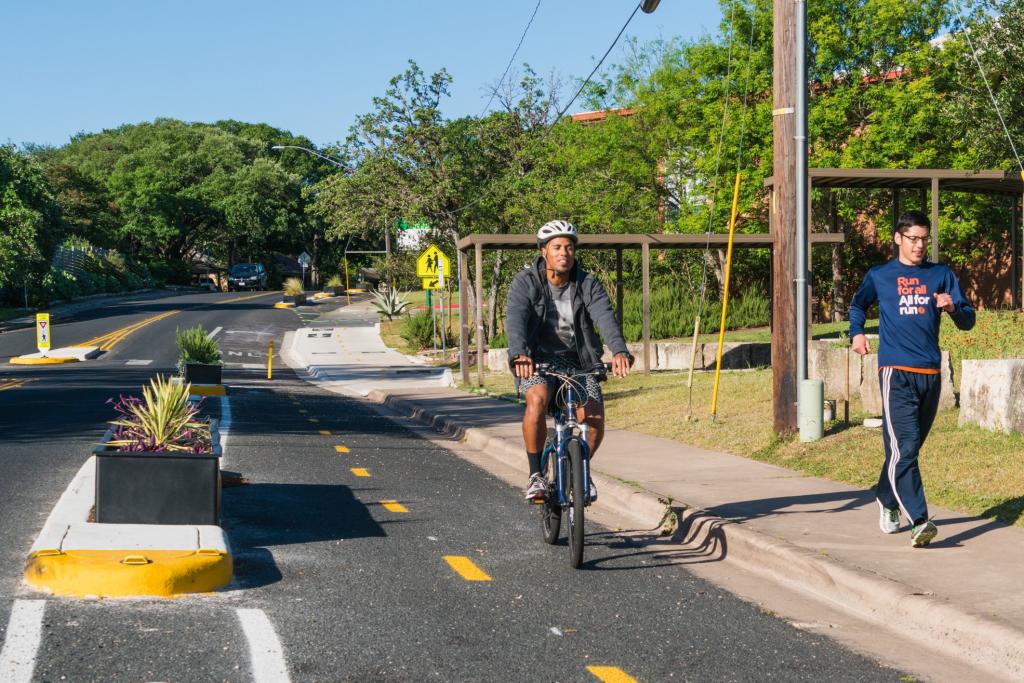 Photo: Example of preferred alternative. Source: https://www.austintexas.gov/page/protected-bike-lanes
Public Engagement
View the final engagement report for the Bronzeville/Mt. Vernon Avenue Mobility and Safety Action Plan:
Transportation Options Survey
The Transportation Options Survey has closed as of March 21, 2022. View the results of the Transportation Options Survey.
Public Meetings
Two virtual public meetings were held on Thursday, February 17, 2022 at 12:00 p.m. and 6:00 p.m. The same information was presented at both meetings. The meeting slides are available here for review: Public Meeting Slides.
Bronzeville/Mt. Vernon Mobility and Safety Action Plan Overview
The Bronzeville/Mt. Vernon Avenue Mobility and Safety Action Plan was completed in 2022.  A public survey was distributed in early 2021 to get input from residents on perceptions of transportation safety on Mt. Vernon Avenue. The project team developed three transportation options based on public feedback in order to reach a preferred option to improve Mt. Vernon Avenue.
The goal of the plan is to improve traffic safety on Mt. Vernon Avenue by reducing speeding and crashes, providing more mobility options for residents to get around, and enhancing neighborhood aesthetics. 
Tactical Urbanism Installation
The Department of Public Service placed an interim safety treatment on Mt. Vernon Avenue from 20th Street to Phillips Street in September 2021. Read more about the installation and results here: Tactical Urbanism Results.
This treatment includes the following:
All-way STOP signs at Champion Avenue and Mt. Vernon Avenue
All-way STOP signs at Ohio Avenue and Mt. Vernon Avenue
New crosswalk markings near Champion Middle School
Striped parking lanes with curb extensions along Mt. Vernon Avenue
Before & After Installation
Before (Mt. Vernon at 22nd)
After (Mt. Vernon at 22nd)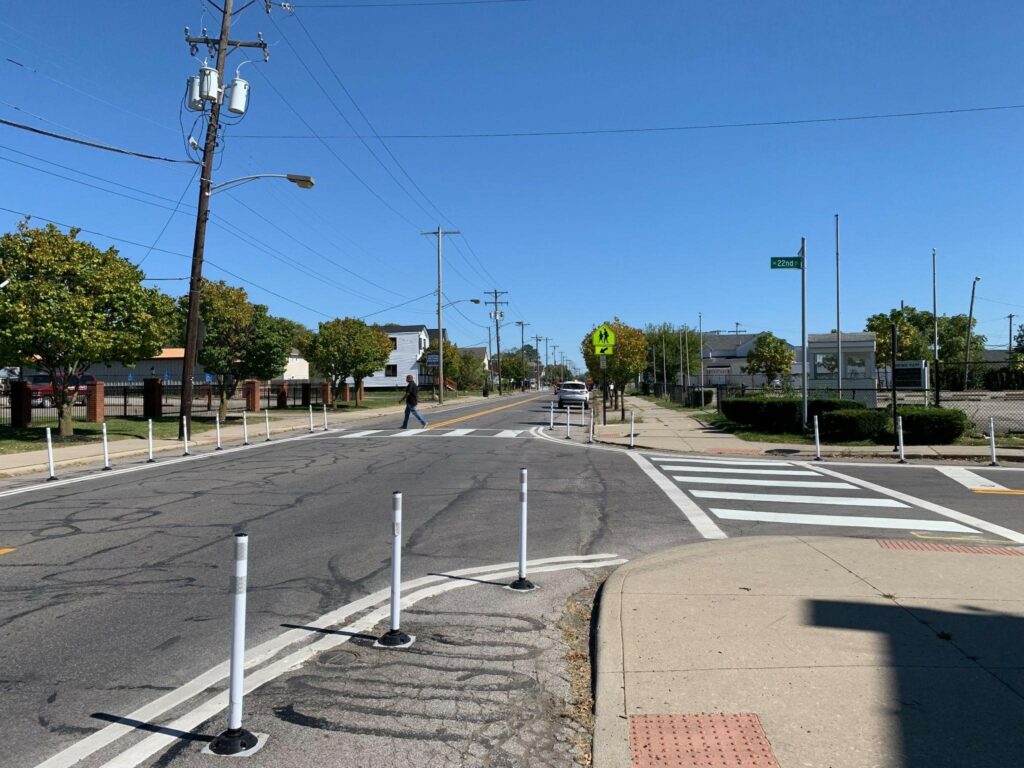 Before (Mt. Vernon at Champion)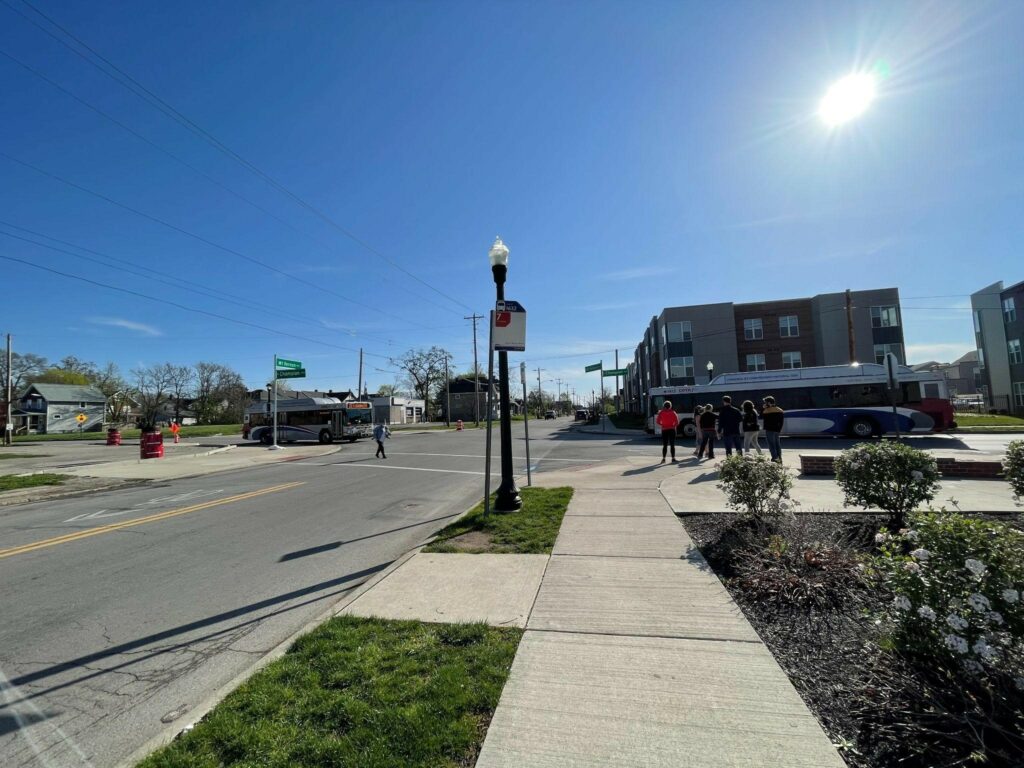 After (Mt. Vernon at Champion)